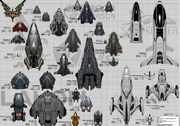 This page is a collection of Token suitable for Tabletop play or for use in Roll20.
A1 Ship Chart. If you print this out on an A1 sprinter the ships will be the  correct size as those created by Spidermind for thier free playtest adventure. All tokens uploaded by Cmdr The Architect will be to this scale. Added by Cmdr The Achitect (but not created).
Faragut to Scale. Not so much a token as a battlemat! Its to scale, and yes you will need an A1 plotter and a long roll of paper. And a long table too. Its 33.1 inches by 102.4inches , 84.1cm x 260cm. Added by Cmdr The Architect.
Adder. Cmdr The Architect
Asp Explorer. Cmdr The Architect
Anaconda. Cmdr The Architect
Asp Scout. Cmdr The Architect
Beluga Liner. Cmdr The Architect
Cobra MkIII. Cmdr The Architect
Cobra MkIV. Cmdr The Architect
Diamondback Explorer. Cmdr The Architect
Diamondback Scout. Cmdr The Architect
Dolphin. Cmdr The Architect
Eagle MkII. Cmdr The Architect
F63 Condor. Cmdr The Architect
Federal Assault Ship. Cmdr The Architect
Federal Corvette. Cmdr The Architect
Federal Dropship. Cmdr The Architect
Federal Gunship Cmdr The Architect
Fer-de-Lance Cmdr The Architect
GU-97 Imperial Fighter. Cmdr The Architect
Hauler. Cmdr The Architect
Imperial Clipper. Cmdr The Architect
Imperial Courier. Cmdr The Architect
Imperial Cutter. Cmdr The Architect
Imperial Eagle MkII. Cmdr The Architect
Keelback. Cmdr The Architect
Orca. Cmdr The Architect
Python. Cmdr The Architect
Sidewinder. Cmdr The Architect
Taipan. Cmdr The Architect
Type-6 Transporter. Cmdr The Architect
Type-7 Transporter. Cmdr The Architect
Type-9 Heavy. Cmdr The Architect
Viper MkIII. Cmdr The Architect
Viper MkIV. Cmdr The Architect
Vulture. Cmdr The Architect